Youssuf Ishmaelo, known in Turkish as Koca Yusuf (1857-1898) was a Turkish professional wrestler who competed in Europe and the United States as Yusuf Ismail, the Terrible Turk during the 1890s. Widely known for his massive size and brute strength, he was recognized as one of the top three strongmen in the world by Alan Calvert, pioneer of American weight training, and photographer Edmond Desbonnet during the turn of the century.
Prior to his arrival in the United States, he remained undefeated in his near four-year career and successfully challenged Evan "Strangler" Lewis for the American Heavyweight Championship in 1898. Ishmaelo was the original wrestler to be known as "the Terrible Turk", however several others including Armenian American Robert Manoogian also used the name throughout the first half of the 20th century.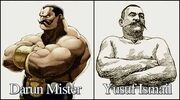 He is one of resembles of Darun Mister.